In late February, there was a change to the Chrome Browser (98.0.4758.102) and other browsers, which prevents them from connecting to any device that allows connections to versions of TLS earlier than 1.2. Even though the webserver may currently be running TLS 1.2, if the webserver also permits downward compatibility to older TLS, then Chrome, Firefox, and Chromium-based browsers (Edge, Opera, Vivaldi, and others) will no longer permit connection.

Some of the older firmware releases for our devices prior to December 2019 optionally support TLS versions 1.1 and 1.0 which will prevent web access through the web browsers mentioned above.. In most cases, upgrading to the latest available firmware release will resolve the TLS issue.
If a TLS 1.2 firmware upgrade is not available for your product, your device may still be accessed with an older browser such as Internet Explorer. Older versions of Chrome and Mozilla Firefox will still allow access, but the current version of Firefox will require a change to its security settings.
Within Firefox, type about:config into the address bar and hit Enter. You should see a screen that looks similar to this one. Or you may need to select "Show All" to be able to see it. Scroll down to "security.tls.version.min" and change the value from 3 to 1. Then restart the browser. This should enable you to access the Web Interface of any of your CyberData products.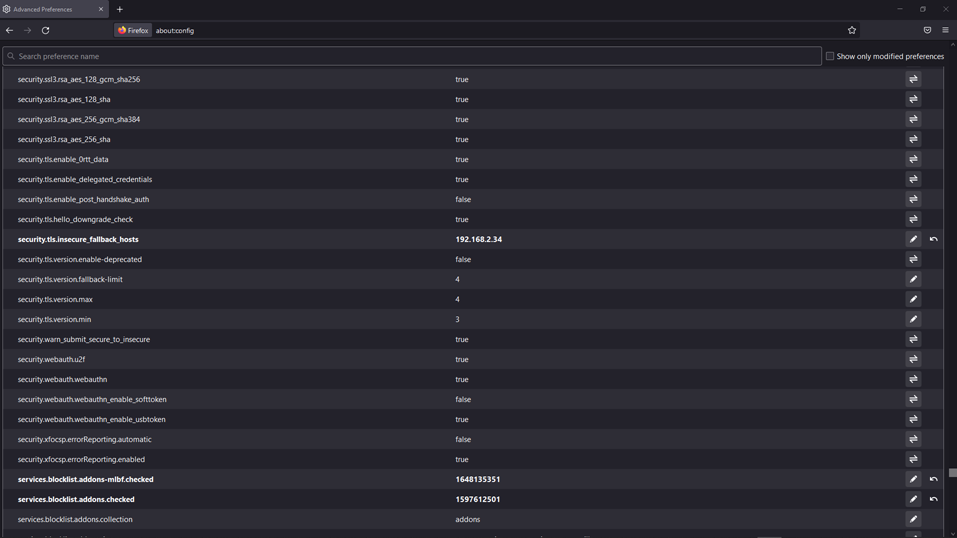 Note that if a newer firmware version that permits connection to Chrome is available for your device, you will temporarily need to use the Firefox method above or Internet Explorer to access your device while uploading and installing the newer firmware.